The role of radio advertising in promoting purchasing decisions of Iraqi citizens
Keywords:
Advertising,Radio,Purchase Decisions, The Iraqi public
Abstract
This research aims to identify the role of radio advertising in promoting purchasing decisions of Iraqi audiences, especially that the placement of the announcement through the Iraqi radio stations dealt with a little of Iraqi researchers, and the goal of the research to know the extent of public exposure to the radio advertising through Iraqi radio and patterns of exposure,disclosure of the reasons for public hearing of the radio advertisement, identifying the most important factors influencing the decision to buy in the radio advertisement, this research is descriptive in terms of type as the researcher used the survey method,questionnaire and scale for data and information collection, the sample was selected according to the purposive sample method, and the sample size of the field research (500) individual from the Iraqi public in both sides of Karkh and Rusafa male and female, the research concluded a series of results, the most important of which,the radio is a source of confidence among the Iraqi audiences because it is not misleading and contributes to the delivery of information about the declared goods as well as the purchase of necessary, and that the period of presentation of radio programs is the best times to broadcast the radio advertisement for the great listening and the decision to buy is related to the needs that the public needs,the results of the study also revealed the strength of the relationship between radio advertising and exposure to radio with purchasing decisions through the contribution of radio advertising in determining the purchase decisions for the advertisement of such information about the goods advertised in order to attract audiences attention to the acquisition of the commodity
Downloads
Download data is not yet available.
References
- وليد عبد الرحمن خالد ,تحليل بيانات الاستبيان باستخدام البرنامج SPSS ,الندوة العلمية للشباب الاسلامي ,1430 ه .
- عبد الرحمن سعد , القياس النفسي , الكويت , مكتبة الفلاح , 1983 .
Walid Abdel Rahman Khaled ,Analysis of questionnaire data using program SPSS,Scientific Symposium for Islamic youth , 1430e.
Abdul Rahman Saad , Self – measurement , Kuwait, Al falah Library , 1983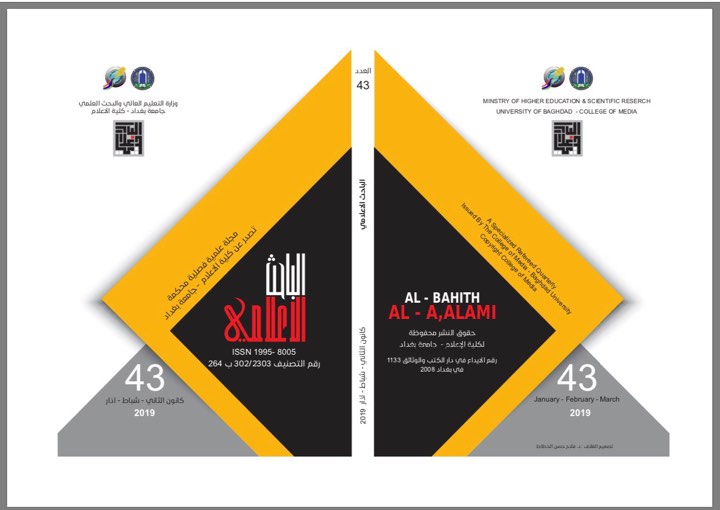 How to Cite
RASHAK KADHIM, M. ., & UMRAN ALTIMEEMI, M. . (2019). The role of radio advertising in promoting purchasing decisions of Iraqi citizens. AL - Bahith AL - A'alami, 11(43), 77–98. https://doi.org/10.33282/abaa.v11i43.245
License
Authors retain copyright and grant the journal right of first publication with the work simultaneously licensed under a Creative Commons Attribution License (CC BY 4.0) that allows sharing the work with recognition of authorship and initial publication in ABBA journal.